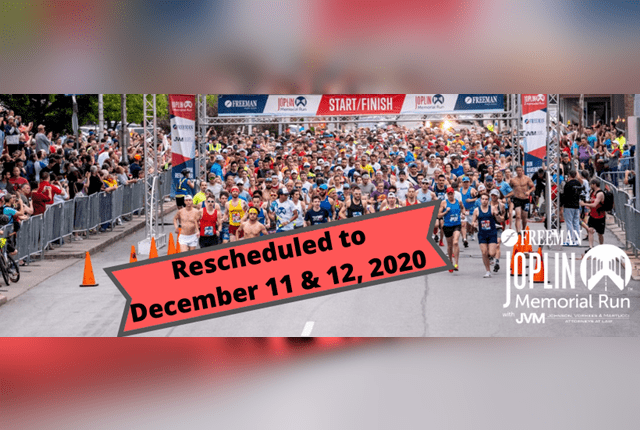 This is exciting news, the Joplin Memorial Run has been approved by all governing bodies allow this sobering memorial run for December 11 & December 12. There is still time to register for this event or volunteer.
Runners and Walkers,
We are excited to announce we have received final approval from the Joplin Health Department and Joplin City Council to proceed with our rescheduled race date of Saturday, December 12, 2020. (Pending no major changes in COVID cases and trends in Joplin)

JMR parent company Active Lifestyle Events President Audie Dennis says "We are very thankful for the city, the Joplin Health Department and to Freeman Health System for the confidence they have placed in us and in our ability to produce a safe environment for our participants. With everything that has happened in 2020, we know our runners are excited to be able to participate in an uplifting, positive event."

You'll receive a follow-up email next week with our full modification plan and race caps for each event. It will include social distancing at all times and masks while not racing. If you are ready to sign up, secure your entry today! If you need/want to switch to virtual or defer to 2021 please reach out to me via email by October 23.

Thank you for your continued support! Keep running and I hope to see you in December!
Tags: